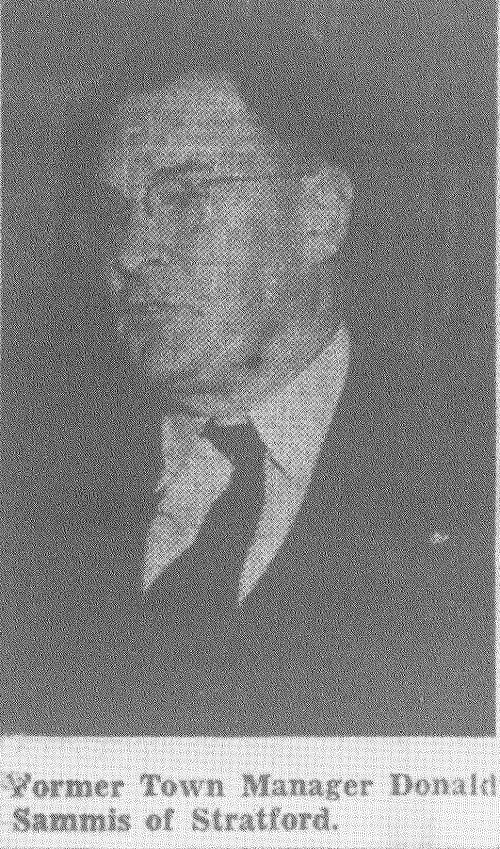 This is a classic Stratford history recording.  In one room, simultaneously, sat three men discussing Stratford's history who undoubtedly knew more of Stratford's history than any other three people similarly assembled at that time or since.  The recording was made February 8, 1964.  Lew and Vivienne Knapp interviewed Donald Sammis (Stratford's first "home grown" Town Manager) and William Howard Wilcoxson (long time Stratford Town Clerk and Town Historian).  Lew was 43, Donald Sammis was 74, and William Howard Wilcoxson was 68 at the time this recording was made.
Anyone who has studied Stratford's history from the early years of the 20th century knows what fine, generous, kind, and highly regarded man James Lally, Stratford's last First Selectman, was.  Likely recorded nowhere else, however, is Mr. Lally's predilection for tobacco spitting and the accuracy of his expectorations.
The fight for Stratford's Council-Manager form of government is discussed at some length.  It's likely no other existent account of that fight records what a major role Donald Sammis played in winning that form of government.  Mr. Sammis describes the men who preceded him as Town Manager, and his time as Town Manager.
Also, likely unknown is how little regard the Boothe brothers had for Stratford's Selectman form of government.  David Boothe basically bailed the town out of very bad financial straights during the great depression by paying his taxes early.  He did so, however, only because he trusted Donald Sammis and the Manager-Council form of government.
Mr. Sammis describes creating Roosevelt Forest.  There is much rumor and conjecture about the formation of Roosevelt Forest.  Mr. Sammis clears all that up in this recording and goes on to describe all the locations in town where stone from the quarry in Roosevelt Forest was used for building and curb constructions.
It's well known the Federal government helped in the funding of today's Town Hall.  It's doubtful that any other account records just how large the Federal government's role was in Town Hall's construction.
Old Town Hall (in Stratford Center where I-95 crosses Main Street) is described in detail and the removal of the Post Office from Selleck Place to the old Town Hall is recorded.  The Post Office was forced to move after fire destroyed the Post Office at Selleck Place and Main Street.
Lastly, the founding of the Stratford Historical Society is retold, at length, including the transition of the ownership of the Judson House from the Curtiss sisters to the Historical Society.